Managing the Risks Associated With the Motor Trade Industry
Posted on August 28, 2020 | by | Posted in Insurance
It's no secret that the motor trade industry carries plenty of risks. From employer safety to cybersecurity and vehicle management, it's important to know how to manage such risks and secure proper cover for your business. In this article, we'll be taking a look at the most common risks associated with the motor trade industry insurance and help you determine which type of cover you should purchase.
Health and safety risks
Motor trade organisations pose a wide range of health and safety risks for both the staff and the general public. Here is how you can minimise these risks and ensure the safety of everyone in the organisation.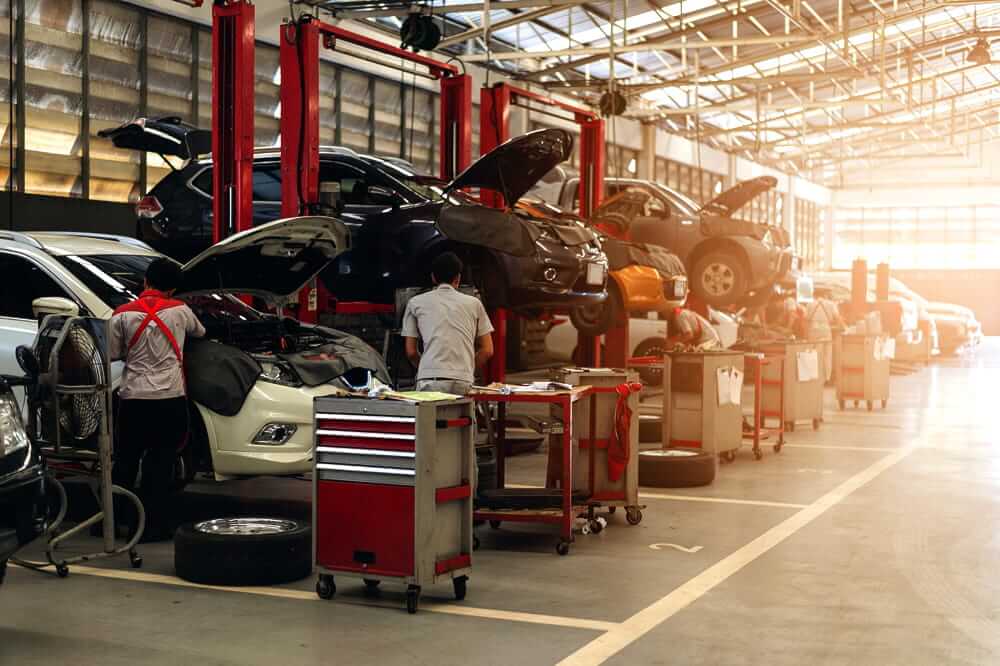 Machinery handling – Vehicle maintenance and repair often require the use of mechanical equipment. To protect employees from machinery hazards, it's crucial to implement personal protective equipment (PPE) such as safety goggles and ear defenders. Conducting routine maintenance and prohibiting machines from being left unattended will go a long way towards reducing workplace hazards.

Falling objects – Car lift failure is very dangerous and employees could suffer from serious injuries from falling vehicle parts. Limit the risk of falling objects by inspecting car lifts and jacks on a regular basis and ensuring the equipment does not exceed safe working loads.

Hazardous substances – Engine oil, toxic exhaust fumes, and cleaning chemicals can pose a serious threat to one's health. Avoid health concerns by wearing the appropriate PPE like gloves, goggles, and masks when dealing with hazardous substances.

Electrical/fire hazards – Faulty electrical wiring, overcharged batteries, and contact with petrol can potentially cause electrical/fire hazards. It's crucial to conduct a fire risk assessment of your building to mitigate any fire risks along with proper staff training on using electrical devices safely.

Public access – When working in the garage or workshop, it's best to limit public access as much as possible. Encourage the staff and your customers to refrain from entering the garage or workshop without proper permission as these areas possess health and safety risks for the general public.
Vehicle management
A successful motor trade business is about maintaining your most important assets and those are your vehicles. The goal is to keep your vehicles safe and secure whether they're in the workshop, garage, or in the forecourt.
Staff selection – Proper staff selection is one of the best ways to keep your vehicles secure. Implement a strict employee vetting system and training program to ensure your staff members are trustworthy, reliable, and honest.

Vehicle theft – Vehicle theft is commonplace in the motor trade industry and it can negatively impact your organisation in many ways. Employing security guards, installing a comprehensive security system, and safe storage of vehicle keys are effective at reducing vehicle theft within the site.

Test drives – Most customers request for a test drive prior to purchasing a vehicle. Before allowing vehicle access, make sure your staff reviews the customer's credentials first. Ensure that the customer's driver's license is authentic and conduct a background check if necessary to limit the risk of vehicle theft.

Vehicle technology – In a world where vehicle technology is constantly evolving, motor vehicles continue to be outfitted with the latest features and advancements. Keeping up to date on these technologies is crucial to prevent misuse, vehicle breakdowns, or advanced methods of theft. Only allow well-knowledged staff to handle new technology like hybrid vehicles and electric cars.
Cyber-security
As organisations across the motor trade industry go digital, having top cyber-security features is a must for any business. Protecting sensitive data such as customer information, commercial online banking systems and employee records are more important than ever.
Make sure your organisation implements top cyber-security measures such using data encryption, strong passwords, antivirus and malware protection, and updating software frequently.
Train your staff on how to detect phishing scams and reporting a breach. Only allow tech-focused employees access to sensitive data.
Enforce specific cyber-security policies, such as a BYOD policy, safe internet/email usage policy and a data breach response policy.
Securing the right cover
Apart from top risk management practices, ensure ultimate peace of mind for your motor trade organisation by purchasing motor trade insurance. Motor Trade Insurance policies are designed to cover organisations whose staff earns their living by buying, selling, repairing, and working with vehicles of all shapes and sizes. Motor trade insurance provides cover for small, big or even part-time motor traders. There are many different kinds of motor trade insurance policies that differ in premiums, features, and the extent of coverage. A motor trader should choose an insurance policy that not only fits within their budget, but also their needs and requirements as well.
Apart from motor trade insurance, you need additional coverage to ensure your organisation is protected from unforeseen financial incidents.
Building and contents insurance
Public and products liability insurance
Crime insurance
Employer's liability insurance
Tools and equipment insurance
Directors' and officers' insurance
Professional indemnity insurance
Road risk insurance
To better understand which types of insurance is right for you, it's worth contacting a reputable group of insurance brokers that will give you sound advice on the best insurance solutions for your business. For more information about motor trade insurance and which cover you should purchase, contact Matrix Insurance today and we'll gladly attend to your needs.